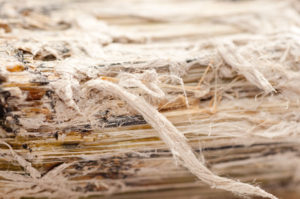 Our asbestos abatement process begins as soon as our technicians arrive to your home or business. They will perform a thorough inspection of all affected areas and will search for any hidden areas where the asbestos may have been overlooked. Our in-depth knowledge of asbestos allows us to locate and identify contaminated areas and to asses what should be dome to fully restore your home or business.
---
What is Asbestos?
Asbestos, a fibrous material, was once used widely throughout construction projects until the later part of the 20th century. It was used as a flame retardant, insulation, and an adhesive for wall and floor tile. For many years, builders and constructors used it not knowing of the potential health risks it held. Once these risks were discovered, the back stock of asbestos-based products were still used as recently as 2003.
The health risks that come with asbestos come from when the fibers of asbestos become airborne, not from the actual presence of the material. As all materials do, asbestos deteriorates as time passes, which increases the risk of exposure to its microscopic fibers exponentially. Mesothelioma and asbestos exposure can occur when the fibers of asbestos are inhaled. Safely removing the presence of asbestos in your residential or commercial property is necessary in order to avoid serious health problems later on down the road.
IICRC Trained, Licensed & Certified
Our staff has a deep knowledge of the many hazards that come with asbestos. If you think that your home or business may have asbestos products lingering in it, don't put off calling for an asbestos removal service. Call the experts at ASAP Restoration today to help you with your problem!
ASAP Restoration's technicians are specialists in asbestos removal and cleanup, and can safely handle any sized project that comes their way. With their extensive knowledge, training, and on-the-job experience, you can be confident knowing that your asbestos removal project will be done properly and safely. Our asbestos removal technicians have worked within severe conditions in a large variety of buildings from residential properties, to multi-family housing, commercial properties, and more.
Contact ASAP Restoration Today: 615-903-8929